ROI Calculator: Discover Your Growth Potential
Use Recurrency's ROI Calculator to Discover Your Growth Potential 
Recurrency's return on investment (ROI) Calculator is now live! Let us crunch the numbers and show you how much revenue your business stands to gain with Recurrency.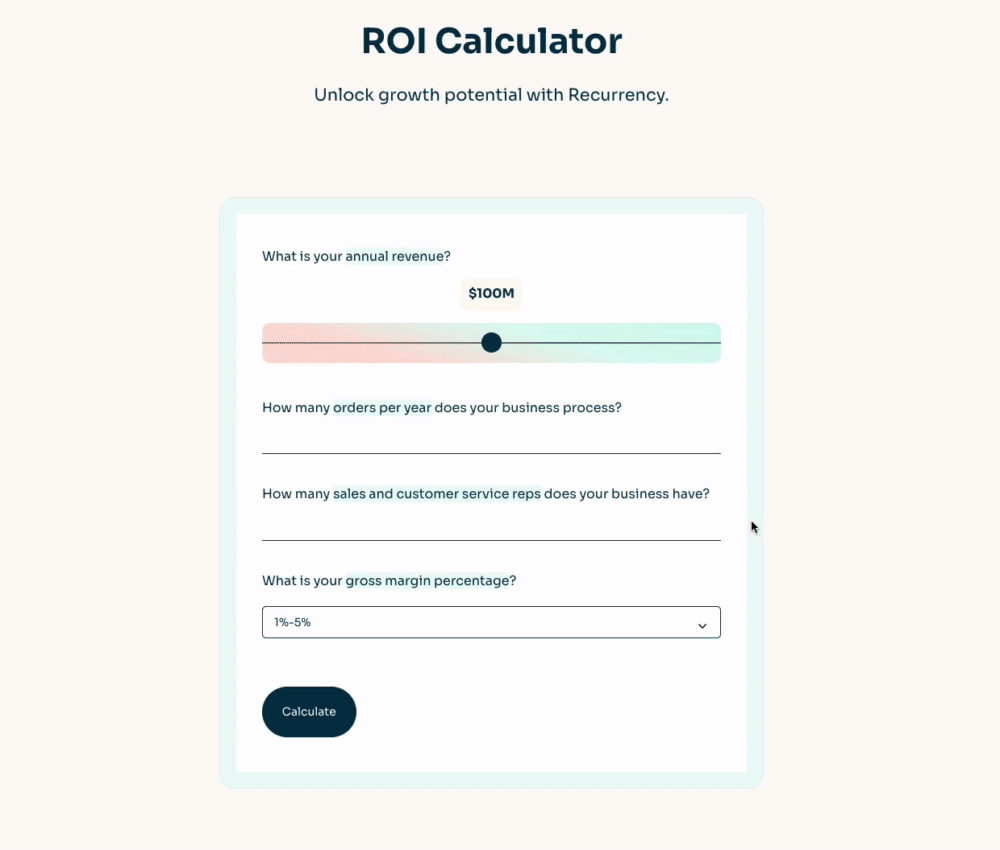 Accounting for Lost Revenue
Your enterprise resource planning (ERP) system remains central to your business, but its technology hasn't advanced in 30 years. With outdated software, how can you expect to maximize your growth potential? In every other aspect, technology has moved on from the 90s, but somehow, your legacy ERP got stuck along the way. Recurrency's mission is not only to bring your ERP into the present but into the future. By introducing a series of features guided by artificial intelligence (AI) and machine learning, we optimize your operations to effortlessly grow your annual revenue. 
Making decisions governed by your ERP's rigid limitations translates to lost revenue. Forgo reliance on outdated and manual processes that can hinder revenue growth. Instead, automate your ERP with Recurrency and watch your profit margins grow. To illustrate your estimated captured growth, we built an ROI Calculator.
ROI Calculator
Recurrency unlocks speed, revenue, and margin for your business, but don't just take our word for it. Test out our new ROI Calculator to generate your personalized growth prediction. We take four factors into consideration when calculating your company-tailored results:
current annual revenue,

yearly processed orders,

number of full-time employees, and

gross margin profit. 
With these four items, Recurrency creates a snapshot of the predicted annual revenue growth we'll gain for you.
Behind the Calculations
Recurrency makes informed decisions driven by smart data. As a data-first platform, our calculations are explainable, specific, and scalable. Draw back the curtain to explore and understand our calculations in full.
Revenue From Reorders 
Recurrency's Customer Reorder Prediction tool uses a four-step process to assign a score to items and identify when customers are ready to reorder. When the produced score is high enough, the recommended item rises to the top of your reorder suggestions. By taking into account factors such as customer history, seasonality, usage, and popularity, we pinpoint each time a customer is due to reorder. When this time arrives, Recurrency notifies your sales representatives to ensure the repeat sale never slips through the cracks, generating increased revenue and improved customer relations. 
Securing new customers and orders is much more taxing and labor-intensive a process than simply capitalizing on repeat orders. Our Customer Reorder Prediction tool is a simple way to convert one-time orders into subscriptions and generate easy revenue. In fact, one Recurrency user captured $20K within minutes of starting their day:
I booked almost $20,000 of easy revenue in just a few minutes thanks to your reorder prediction. That's a great way to start the day.

— Long Tenured Sales Representative

Sales Distributor
How much does your business stand to gain from our Customer Reorder Prediction tool? Find out with our ROI Calculator.
Inventory Allocation and Availability
As supply chain disruptions persist, one of the most difficult tasks to navigate is how to keep shelves stocked while simultaneously avoiding spoilage or overstock, both of which can wreak havoc on your bottom line. Fortunately, Recurrency has created a powerful Demand Forecasting tool that combats these issues with ease. Unlike most traditional forecasting, Recurrency's algorithms produce accurate forecasts that span months in advance, ensuring your shelves remain stocked.
Demand forecasting is a game of logistical planning and with Recurrency at your side, you'll never lose. Recurrency makes use of your historical sales data while taking into account external trends to identify when it's time to restock. Storage costs money and stockouts both churn customers and hinder revenue growth. Our Demand Forecasting tool, powered by AI, automates and optimizes your purchases to eliminate stockouts, prevent spoilage, and gain customer loyalty. Improving forecast accuracy is essential to maintaining healthy profit margins. Recurrency's Demand Forecasting has the potential to help reduce stockouts and lower waste by 61%. Improvements this drastic have a profound impact on your bottom line:
$5.3 million: The value one customer, a food distributor in Japan, realized with Recurrency.
Ready to boost your bottom line? Calculate how much Recurrency will help you gain.
Average Order Value
Improving your average order value grows revenue and expands margin. While intuition may be an effective resource when deciphering your newborn's cry, it lends terrible guidance in business. Guessing won't grow revenue. Instead, eliminate the guesswork with our data-driven Upsell Recommendation tool. We analyze your existing sales data to predict what your customers need with uncanny precision.
Our AI leverages customer history to suggest a list of corresponding recommendations that best match your customer's ordering needs. The higher an item ranks on the list, the greater the potential you stand to maximize earnings from a sale. Recurrency's Upselling Recommendation tool mobilizes your sales team with powerful insights. With spot-on recommendations, you can move stock faster, push slow-moving stock, and increase revenue by adding more line items per order. With such a robust tool, you may relate to the thought of this Recurrency user:
This feels like cheating!

— New Sales Representative

National Packing Distributor
We assure you, it's not cheating. It's Recurrency. 
The Benefits Don't Stop There
Improving your annual revenue with our Customer Reorder Prediction, Demand Forecasting, and Upselling Recommendations is just the beginning. We drive up your bottom line while returning hours in the day.
Lift Gross Margin
Our Price Optimization makes setting prices easy. Through demand-first pricing, Recurrency automatically adjusts real-time inventory pricing to match supply and demand and maximize your profit. We collect, clean, and analyze your existing data to automatically suggest the best pricing decisions. Our dynamic pricing engine eliminates manual data entry and keeps your business a competitive contender. With Recurrency's Price Optimization, your gross margin will continue to climb. 
Save Hours
How much value does a second hold? A minute? An hour? Recurrency bestows the gift of time. Your ERP, perhaps unbeknownst to you, robs you of your day. We return your lost hours, and then some.
From our typo-tolerant search function to one-minute quotes, we shave off the amount of time it takes to complete functions. Ditch your Excel sheets, automate workflows, speed up your ERP, and recover lost time. 
Unlock Your Growth Potential
Outdated software burns capital and impedes revenue growth. It's time to bring your ERP up to speed. Join the revolution that is finally awakening ERP technology that has lied dormant for decades. With a single click, Recurrency's web-based platform instantly converts your legacy ERP from a cost center to a profit powerhouse. With so much revenue at stake, the only question is, can you afford not to implement Recurrency?